2010 Rescues

Jack Ledsham a lively ten year old with cerebal palsy spastic quadraplegia who has out grown his trike and was in need of a bike he could use during family outings.  The PMRT brought Jack a recumbent bike which will give him independence and exercise.  If Jack becomes too tired whilst cycling with the family the front wheal of his bike can be removed allowing his bike to be attached to the back of his fathers bike for the journey home.
---
Natalie, a 16 year old from Ramsey, was one of the first rescues PMRT ever made in 1999. Natalie has cerebral palsy, visual impairment and learning disabilities and is unable to sit or walk unaided, and therefore her Mum and Dad have a special hoist fitted at home, but they needed a mobile one for holidays and visits to grandma. PMRT came to the rescue and purchased a Molift for £1,950.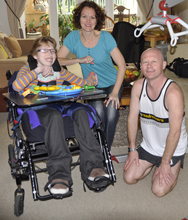 ---
11 year old Georgia Hunt from Fenstanton suffers from difficulties with motor coordination, hypermobile joints and low muscle tone due to a small brain haemorrhage when she was born prematurely.Georgia needed to upgrade the specialised trike purchased for her 5 years ago by PMRT, which she had outgrown,to a larger model,and Pidley Mountain Rescue again came to the rescue with a special JCM trike costing £1,175.00.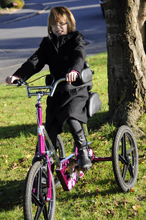 ---
PMRT again came to the rescue of 11 year old Samantha Desborough from Hemingford Grey, who has severe learning difficulties and epilepsy by funding the installation of a sunken trampoline in her back garden, so she can improve her balance, posture and mobility.
---
No longer able to drive, Leslie Favell gets mobile thanks to PMRT - Sixty Four year old Mr. Leslie Favell from Great Stukeley is being treated at Papworth hospital for a chronic respiratory condition and is no longer able to drive, so Pidley Mountain Rescue purchased a Pride Colt 9 mobility scooter and ramp for him at a total cost of £950, so that he and his wife, Heather, can visit local friends, shops and services together.
---
Kind Donation Benefits Geoff Beeby of Pidley - Geoff Beeby is 90 years young and has lived in Pidley all of his life, apart from when he was serving in the Second World War. It is thanks to Mrs Rita Hodson from Ramsey who kindly donated a Pride Legend motorised scooter that Geoff is now getting out of the house much more.  Before the scooter was issued to Geoff it was checked over by Mobility Aids of Stanground to ensure it was fully serviceable
---
Roly from Warboys is mobile and in the allotments again - The Pidley Mountain Rescue has contributed £700 towards a Pride Colt motorized scooter for 84 year old Roland Bowd of Warboys.  He can now visit friends on the allotments he used to love cultivating.  He has lived and worked in Warboys all his life.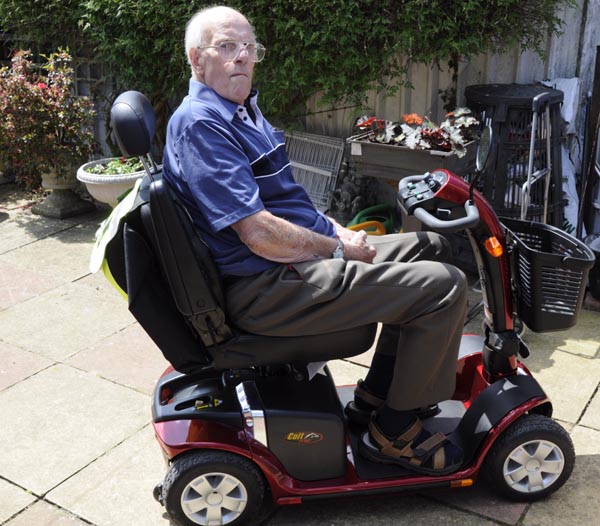 ---
Trustee Don from Pidley gets his reward for long service - 89 year old Don Johnson was until recently the oldest trustee of the Pidley Mountain Rescue Team.  After his retirement from the team he started to find it more difficult to get out in an evening to visit the social club for a game of cribbage and asked the rescue team if they could find him a second hand motorised scooter (not a new one).  This was provided and Don now makes full use of it, visiting the social club where he can enjoy his evenings with friends.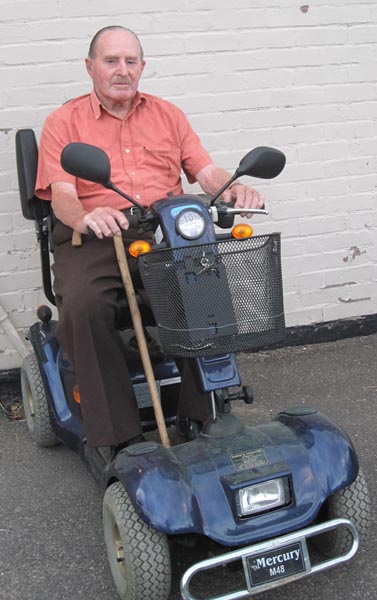 ---
Michael Champion of St Ives - Michael was forced to give up driving his car due to his medical condition.  The Pidley Mountain Rescue Team helped Michael regain his independence with the purchase of a specially adapted 'Pashier' trike.  He can now get the exercise he needs by cycling to the supermarket and the Ivo Center.  Michael provided £200 towards the cost of his £695 trike.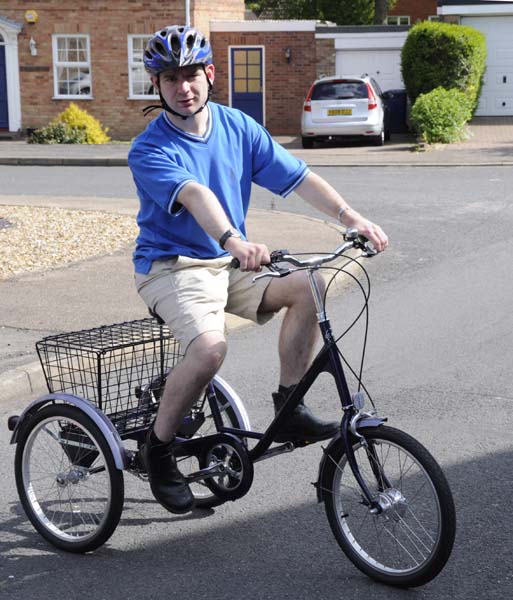 ---
Ian Allgood of Leighton Bromswold - Ian has chronic arthritis and as a result has extremely limited mobility.  His old scooter was deemed beyond repair and this deprived Ian of the freedom he had been enjoying. In order for Ian to be able to attend the steam rallies he enjoys so much he needed an all terrain scooter, so Pidley Mountain Rescue Team bought him a Special Sterling Diamond Scooter with large wheels and independent suspension.  He is now able to attend the rallies accompanied by his wife Susan.  The cost of the scooter was £1,475 with Ian offering to make a personal contribution of £200 towards the cost.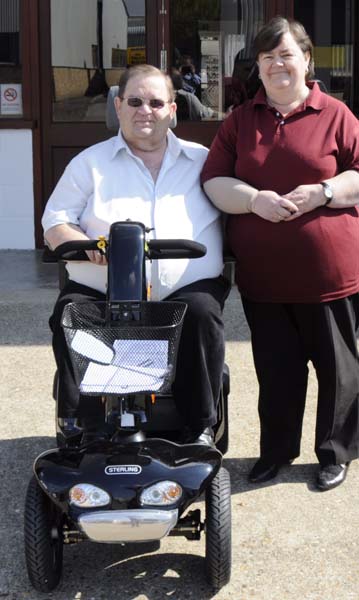 ---
Yvonne Tooke from Alconbury - Yvonne and her husband Peter Tooke ran the Mad Cat pub in Pidley in the early 90s and raised a lot of money for charity.  Now, Yvonne who has severe respiratory problems and arthritis has called upon PMRT for help.  She wanted to be able to visit friends in the village and go to the post office and bingo evenings, etc.  She now has her independence in the way of a  Aquasoothe Little Tiger 4 wheel buggy (cost £895).
Yvonne was recommended to PMRT as a rescue by the charity, Independent Age.
---
Helaine Woolls of Warboys - Helaine was dependent on her old sturdy buggy until it brokedown and was deemed beyond economical repair.  This is were PMRT stepped in to give her her independence back with a contribution of £800 towards the cost of a Breeze 4 Mobility Scooter.  Helaine is very pleased to have her freedom back
---
Holly Greenhow of Hemingford Grey - Holly aged 4 who has Athetoid Cerebral Palsy and is unable to move around easily.  Her mother asked if the PMRT would be able to help fund a special Theraplay trike which would give her support and help with her physical development.  The funds for Holly's bike were generously donated by St Ives based company EcoLab with a personal contribution from parents of £175.  The rescue is the 150th since PMRT was re-launched in 1999 by Gil Boyd.
---